The Lavender Scare
Whether or not you're old enough to remember the time when the entire nation liked Ike, you will find this fascinating documentary about one aspect of Dwight D. Eisenhower's presidency chilling.  With the United States gripped in the panic of the Cold War, the president deemed homosexuals to be "security risks" and ordered the immediate firing of any government employee discovered to be gay or lesbian. His order triggered a vicious witch hunt that ruined tens of thousands of lives and thrust an unlikely hero into the forefront of what would become the modern LGBT rights movement.
Film director Josh Howard will be in attendance for a Q&A after the film.

Preceded by the short film: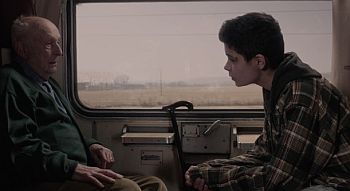 Approaching (Přistoupili)   (U.S. Premiere)
Directed by Tereza Pospíšilová, 2016, Czech Republic, 30 min, In Czech with English subtitles
Fifteen-year-old Martin is running away from home, hoping to start a new life in Prague. The only other passenger in the train compartment is an old man – the last person Martin would expect to be understanding. They form a bond, but will Martin's secret endanger their fragile friendship?