B&B
What starts out as a romantic and mischievous weekend getaway at an out-of-the-way bed and breakfast turns into a suspense-filled game of cat and mouse and international intrigue for handsome gay Londoners Marc and Fred. They have returned to bait the homophobic owner of the B&B for not allowing them to share a bed the year before.  But they soon become concerned for the safety of the owner's adorable teenage son after the arrival of a mysterious and sexy Russian stranger whom they suspect has sinister intentions. This comedic dark thriller will keep you guessing until the end.
Venue: Spotlight Theatres
Director Joe Ahearne will be in attendance for a Q&A after the film.

Preceded by the short film: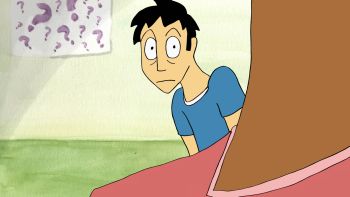 Bittersweet    (Connecticut Premiere)
Directed by Allen Martsch, 2015, USA, 4 min
In this sweet animated vignette, a young boy goes through the joy and anxiety of a high school crush.
Closing Night Party follows the films at the nearby Wadsworth Atheneum Museum of Art – Gengras Courtyard.