I Dream in Another Language (Sueño en Otro Idioma)
If you're looking for a fast-paced, action-packed thriller, then this film isn't for you. In this stunning and gorgeous drama, Martin arrives in a remote Mexican village to study and record a dying, ancient indigenous language. He finds the last two speakers of the language, but they refuse to talk to each other because of a 50-year grudge. As Martin starts a love affair with one of the locals, he digs deeper and deeper into the mystery until finally, a complicated love story comes to light. Who are the star-crossed lovers and what becomes of them? You'll have to watch to the end to find out!

The Shorts preceding the feature are: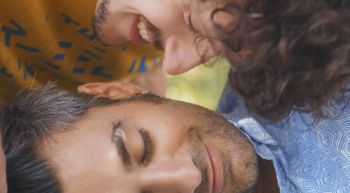 Por Un Beso   (New England Premiere)
Directed by David Velduque, 2016, Spain, 5 min, In Spanish with English subtitles
Tomás and Andrea are standing opposite one another at a crossing. Their eyes meet at a distance and they start smiling at each other. What they don't yet know is that this fleeting encounter will mark their destiny.
These C*cksucking Tears    (Connecticut Premiere)
Directed by Dan Taberski, 2016, USA, 15 min
Forty years after the release of the world's first and only gay-themed country music album, you won't be able to get this tune out of your head, especially after you've met the man behind it.